Blackbird Leys murder trial: Jury told of missing evidence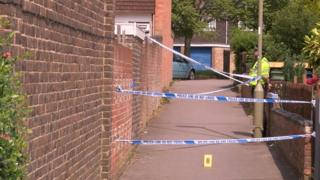 Evidence relating to the death of man who was "savagely attacked" was disposed of in an "active plan" to thwart the police, a jury has heard.
Christopher Lemonius, 27, died after being found injured in Jourdain Road, Blackbird Leys, Oxford, on 1 June.
Prosecution barrister Stuart Trimmer QC said clothes and mobile phones belonging to the defendants had never been found.
Six men deny murder, and four others deny perverting the course of justice.
On Wednesday, the jury was told Mr Lemonius was "savagely attacked" by a gang, sustaining more than 80 injuries.
Continuing to open the prosecution's case earlier, Mr Trimmer said clothing worn by the defendants, which was seen on a Premier store's CCTV, could not be found.
The prosecution believes the clothes, and some mobile phones, were disposed of because they would have placed certain defendants at the scene of the attack.
It was all part of an "active plan to pervert the course of justice", Mr Trimmer told Oxford Crown Court.
He added that it was not a question of whether Christopher Lemonius was murdered but rather: "Who was involved?"
He said there had been a confrontation between two groups by the Premier Store in Blackbird Leys and Mr Lemonius and two friends were chased by a large group.
The prosecution also alleges Allal and Yamina Lamzini - who deny attempting to pervert the course of justice - were in their house when Mr Lemonius was attacked in the property and had lied in witness statements.
Mr Trimmer said they were "plainly aware" of what was happening, and the noise of the attack was so loud it was "inconceivable" they could not hear it.
Those charged with murder:
Yousef Koudoua, 27, of Balfour Road
Yasine Lamzini, 19, of Jourdain Road
Rashaun Stoute, 23, of Church Cowley Road
Connor Woodward, 24, of Haldene Road
Otman Lamzini, 24, of Jourdain Road
Carlos Spencer, 26, of Wynbush Road
The jury also heard evidence from CCTV coordinator Det Con Deborah North, of Thames Valley Police, on the second day of the trial.
She said 81 CCTV exhibits had been viewed by officers investigating Mr Lemonius' death.
The trial continues.