Blackbird Leys murder trial: Man had 'more than 80 injuries'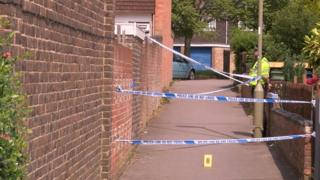 A man who died after he was "savagely attacked" by a gang was found with more than 80 injuries, a court has heard.
Christopher Lemonius, 27, was attacked following a confrontation outside a shop, Oxford Crown Court was told.
Mr Lemonius was found injured in Jourdain Road, Blackbird Leys, Oxford, on 1 June, 2017 and later died in hospital.
Six men - all from Oxford - deny murder. Four others deny perverting the course of justice.
In his opening remarks on the first day of the retrial Prosecutor Stuart Trimmer QC told the court that Christopher Lemonius had been the victim of a "violent murder".
He said there had been a confrontation between two groups by the Premier Store in Blackbird Leys before Mr Lemonius was chased by a large group along with two of his friends.
Mr Lemonius was chased through Blackbird Leys Park to a property in Jourdain Road.
Mr Trimmer QC said the group used golf clubs, pieces of wood and machetes to attack Lemonius in the kitchen and garden of the property, before continuing their attack in an alleyway at the back of the house.
The jury was told that during the trial they would hear from a home office pathologist who would describe the more than 80 injuries to Christopher Lemonius's body.
Those charged with murder:
Yousef Koudoua, 27, of Balfour Road
Yasine Lamzini, 19, of Jourdain Road
Rashaun Stoute, 23, of Church Cowley Road
Connor Woodward, 24, of Haldene Road
Otman Lamzini, 24, of Jourdain Road
Carlos Spencer, 26, of Wynbush Road
Two defendants, a 17-year-old and Saffon Fakir, from Oxford, tried to cover up what had happened by hiding evidence, the prosecution alleges.
Both deny conspiracy to pervert the course of justice.
Allal and Yamina Lamzini, of Jourdain Road, Oxford, who were in their house at the time of the attack, deny doing acts tended or intended to pervert the course of justice.
The trial continues.