East Reading Mass Rapid Transit plan revised after protests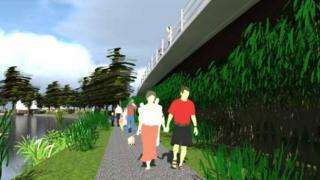 Revised plans for a new traffic scheme in Reading have been revealed in response to opposition.
Protesters say the East Reading Mass Rapid Transit (MRT) will cause significant environmental damage.
After public consultation, Reading council updated plans for the dedicated bus, pedestrian and cycle route to address concerns about the loss of trees and risk of flooding.
If the MRT is approved work could begin in early 2019.
Further suggestions can still be made to the revised planning application until 18 May for the scheme, which would not be open to private vehicles or taxis.
The plans for the sustainable transport route, originally submitted in July 2017, are aimed at easing congestion.
Reading Borough Councillor Tony Page said: "Once this new and faster route has become established, it will significantly increase the attractiveness of public transport services.
"With the creation of new park and ride sites, and the possible expansion of existing ones, it is forecast that many thousands of car commuter journeys will switch to public transport, thereby reducing forecast congestion and improving forecast air quality in east Reading."