Oxford Paradise Square gunman siege ends after 14 hours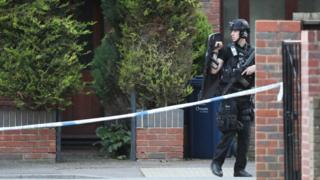 A 14-hour stand-off between a gunman and armed police in Oxford has "ended peacefully", police have said.
Shots were exchanged between the suspect and officers in Paradise Square on Monday before negotiators attempted to end the situation.
A 24-year-old man was arrested on suspicion of attempted murder at about 03:00 BST, police said.
One person is being treated for a non-life threatening injury, South Central Ambulance Service said.
Firearms officers were called at 13:15 BST on Monday after witnesses reported hearing gunfire.
Dean Dwyer, who saw armed police in the street, said: "They were screaming 'put your hands up'."
One resident said he heard about 20 shots exchanged, with the gunman "shooting from the balcony" of a home.
"I could hear a female negotiator and an armed response man trying to get him to put his hands up [and] let go of the gun," he said.
Tourist Janet Borgerson was in the nearby Malmaison hotel when she heard "explosive cracks" before a series of "loud bangs".
"I thought the second round were firecrackers," she said.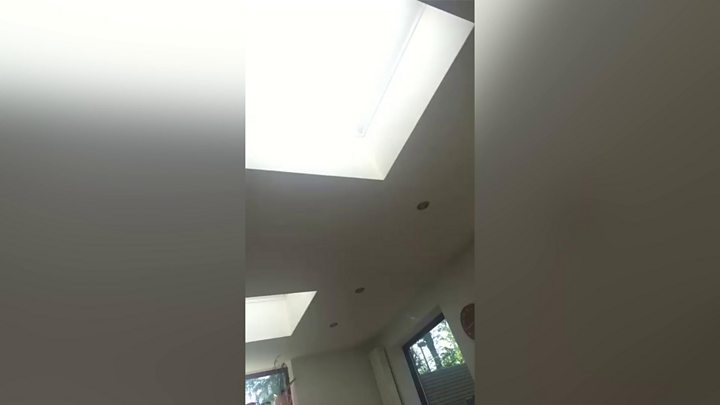 Omar Murtaza, 33, said he was evacuated from his nearby home with his wife and four children, aged between seven weeks and six years, during the stand-off.
"It's a bit scary, this is normally a quiet neighbourhood. You don't expect guns anywhere really, but not in Oxford," he said.
Fred Dimbleby, editor of Cherwell Online, tweeted footage showing paramedics carrying a stretcher to the scene.
Supt Joe Kidman said: "Thank you to everyone for your understanding and patience while we worked to resolve the incident safely.
"We are grateful for the support of members of the public and local businesses. If you're coming in to Oxford today you should not experience any further disruption."
In a later tweet, Supt Kidman said: "On a demanding day the support of the public makes a huge difference.
"I'll be back down again with local officers later to say so in person."
A police spokesman said the incident, which sparked a "large police presence", was "contained" and "no one sustained any serious injuries".
Officers began to allow residents to return to their homes on Monday evening after presenting themselves at the police cordon.
All road closures have been lifted in the area, though police remain at the scene.
At the scene - Georgina Campbell
With the streets now open, it was eerily quiet down Paradise Square this morning.
It was as if the incident hadn't happened at all as people freely used the road to go about their daily business.
At about 07:00 BST some residents began returning to their homes after spending the night away for their safety.
The police officers and emergency service personnel - which swarmed the street for most of the afternoon yesterday - were nowhere to be seen.
The only sign left in the street to show the gravity of the incident was a police officer looking out from a window in one of the properties, and a single police car parked at the end of the road.
A small footpath behind the square is still cordoned off to the public, with several officers in attendance.