Thames Valley police officer kicked bouncer at nightclub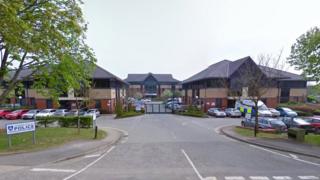 The behaviour of a police constable who was thrown out of a nightclub and fought with bouncers amounted to gross misconduct, a hearing has found.
Ryan Field, who was based at the Oxford investigation hub, was off-duty in Banbury when he fought with door staff, Thames Valley Police said.
While under the influence of alcohol he kicked one member of staff "with considerable force on his shin" the panel heard.
Mr Field resigned on 17 April.
A special case misconduct hearing, chaired by Chief Constable Francis Habgood, took place the force's headquarters in Kidlington, Oxfordshire, on Thursday.
It was determined that the former officer had breached the standards of professional behaviour in respect of discreditable conduct.
Mr Field was said to have "intervened in a disturbance by shouting and grappling with security staff" at the nightclub in the early hours of Sunday 19 February.
Staff chose to eject him from the premises, but he continued to "behave in an aggressive manner" and kicked one of the men at the door.
Chief Constable Habgood said Mr Field would have been dismissed from the force had he not resigned, and said his details would be placed on the college of policing's barred list.
Deputy Chief Constable John Campbell said: "Field was found to have assaulted a member of the public and behaved in such a manner likely to bring discredit upon the police service which would have undermined the public's confidence in us.
"There can never be a place for this behaviour in our force and action will be taken against anyone whose conduct falls below the standards, in the way this officer's did."