Witney dog attacks lead to increased police patrols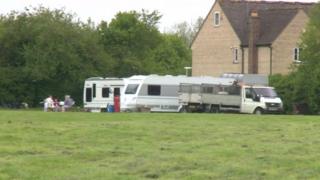 Police are increasing patrols in a market town near a recently arrived traveller encampment after a number of residents were bitten by dogs.
The travellers have set up camp on King George's Playing Field on Oxford Road, Witney, in Oxfordshire.
Witney Town Council has served them notice to leave by Sunday at midday.
Thames Valley Police said three people have received minor injuries as a result of dog bites, during incidents in the field earlier in the week.
One victim was Dean Temple from the council who said he was bitten on the leg by a dog while serving eviction notices.
Insp Steve Hookham, based at Witney Police Station, said: "I would like to reassure the public that we are thoroughly investigating these incidents.
"I am aware that incidents of this nature are worrying to local residents and my officers will be conducting regular patrols in the area."
Police said they had received a "number of calls from concerned residents" and were "engaging with the group".
A traveller, who did not want to be named, told the BBC that they wanted to live peacefully alongside their neighbours while they were there.
She also said they were willing to cooperate with the council, and have tied the dogs up.
The encampment in Witney is the latest in a series of traveller camps in the county that have faced opposition from the authorities.
Previous larger camps have moved around park-and-ride sites in Bicester, Water Eaton, Redbridge and Peartree, between February and April.