Local elections 2018: Tory losses in West Oxfordshire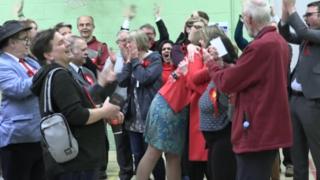 The Conservatives have lost a third of the seats they were defending in West Oxfordshire, including two to Labour.
Labour gained seats in Freeland and Harborough and Witney East, both in ex-PM David Cameron's former constituency, as the Lib Dems gained three wards.
Meanwhile, Labour kept control of Oxford City Council winning two seats from the Greens in the local elections.
There was a moment of drama at Witney when the final seat on a parish council was decided by drawing lots.
Returning officer Keith Butler described it as a "historic moment" and the only time he had had to do it in 12 years in the job.
Labour candidates were ecstatic at the West Oxfordshire result, with plenty of tears, hugging and fist pumping, said BBC Radio Oxford's Martin Eastaugh, who was at the count.
In Oxford, councillor Dick Wolff is one of just two Green Party councillors after the party lost two seats to Labour.
"Is this people showing support for Corbyn's leadership, but given we have a city council leadership which is not Corbynite, is it saying the opposite?," he asked.
The Liberal Democrats also gained a seat in Oxford winning Quarry and Risinghurst. It was the first time Labour had lost a seat in Oxford since 2006.
The Conservatives lost Kidlington West to the Liberal Democrats but maintained a strong majority at Cherwell District Council.
While they lost two seats, they narrowly picked up Bicester South from an Independent.
Meanwhile Labour picked up an extra seat in Banbury Cross.