'Panini Cheapskates' to draw each World Cup 2018 sticker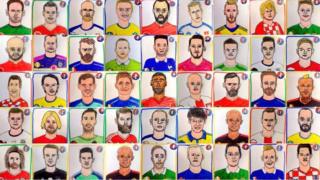 A couple whose homemade football stickers won fans around the world will try to fill the entire World Cup 2018 album.
Alex and Sian Pratchett began drawing in the 2014 World Cup as they could not justify the cost of filling the album with official stickers.
Their efforts soon attracted attention on social media, and was even covered by newspapers in Iran and Japan.
They expect it to take more than 170 hours to fill the 2018 Panini album.
"A lot of people have cajoled us to give it another stab", said Mr Pratchett.
The couple from Oxford post the pictures on Twitter as @CheapPanini and will once again draw each one during the 32-day tournament, which starts in Moscow on 14 June.
But Mr Pratchett added it would be "a bit different" as they now have a baby and "it turns out they take up quite a bit of time".
It has been calculated that completing the 2018 edition might cost as much as £773.60, but Panini has said it is less if people swap stickers or send off for missing ones.
"It became a bit of thing on the internet... It was not what we were anticipating but a lot of fun in a weird way," said Mr Pratchett
Dubbed the "Panini Cheapskates" they decided do it once more for Euro 2016 to raise £4,500 for charity and will fundraise again this year.
The couple plan to support Cancer Research UK, MacIntyre, Nordoff Robbins, and Stonewall - but despite their previous experience Mr Pratchett said their drawing skills still left something to be desired.
"We're very resistant to improvement, we've drawn about 1,500 of these little guys and we're still pretty hopeless."