Performance of £440m Westgate Oxford defended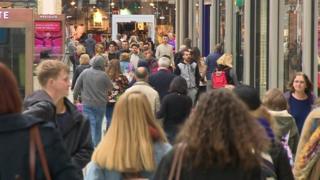 The performance of a new £440m shopping centre has been defended after claims it is not meeting expectations.
Nine million people have visited Westgate Oxford since it opened on 24 October, according to general manager Brendan Hattam.
He said it meant they were "10-15% ahead" of their forecasts prior to its launch six months ago.
But Keith Slater, director of retail consultancy firm Caprese, said the figures were "a little disappointing".
"It has opened at a time when retail sales are quite depressed and it's not pulling in people quite as everyone would have hoped for," he said.
He added: "I would have hoped by now that there were more shops open... and I would like to see more people round here than I'm seeing at the moment."
Mr Hattam said Oxford was doing better than other cities and it was "mainly due to the development of the Westgate centre".
"We are ahead... of where we thought we would be", he added.
Several units at the shopping centre remain unfilled six months after the launch.
Westgate Oxford said 94% of it was currently let or in the process of being let.
John Lewis, which occupies the largest spot in the 800,000 sq ft (74,300 sq m) mall, said the number of visitors had been "higher than anticipated" and said it expected more in the summer as tourists visited the city.
The development of Westgate Oxford was a joint venture between Landsec, the UK's largest listed commercial property company, and The Crown Estate.
It replaced a 1970s shopping centre which was demolished in 2016.