New Oxford University alumni portrait 'celebrates diversity'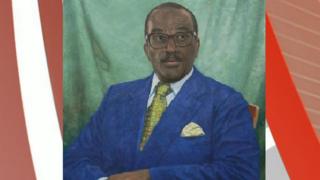 A new portrait of the first person of African-Caribbean descent to be elected president of the Oxford Union in 1942 has been unveiled at Keble College.
Sir James Cameron Tudor subsequently became one of the Caribbean's most influential diplomats and politicians.
Born and educated in Barbados, Sir James studied Philosophy, Politics and Economics at Keble College.
The college's warden said it showed their "wish to celebrate the diversity of its alumni and student body".
The occasion for the unveiling of the portrait is St Mark's Day, which is the day of John Keble's birth in 1792.
It also marks the date of the laying of the Keble Foundation Stone in 1868.
'Astringent wit'
Sir James went on to become a founding member of the Democratic Labour Party of Barbados, which led the country to independence in 1966.
He served as Deputy Prime Minister, Education Minister, High Commissioner to Britain, and Ambassador to the United Nations.
Arriving at Oxford University in 1940, Sir James was elected unopposed as president of the Oxford Union in 1942.
During his tenure, he oversaw the Junior Common Room committee through a difficult time, during which the college was requisitioned for war purposes and the students re-housed in other colleges.
He was described as having "exercised in the Chamber a pleasant and astringent wit".
Warden of Keble College, Sir Jonathan Phillips, said: "The college is very pleased that the achievements of such a distinguished individual are being recognised in this way."
The portrait, which will hang in the college dining hall, was painted by artist Anthony Oakshett, whose work includes a painting of the Queen.