Faringdon mother detained for stabbing son to death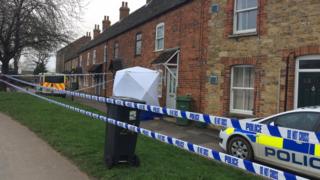 A mother who stabbed her five-year-old son to death is to be held in a psychiatric unit, a judge has ordered.
Police discovered Emma Jackson covered in blood and the body of her son, Tyler Warmington, at her home in Faringdon, Oxfordshire, on 14 March last year.
Jackson, 41, denied murder but admitted manslaughter on grounds of diminished responsibility.
"Your life sentence is living with the knowledge that you killed your own son," Judge Ian Pringle QC told her.
Oxford Crown Court heard that Jackson was found by police with self-inflicted injuries to her wrists following the killing.
She told police her son was sleeping upstairs. They found his body there with a kitchen knife and 13 stab wounds.
Jackson said she had no memory of what had happened.
'Tragic facts'
Officers were investigating Tyler's whereabouts after his school said he had not attended for two days.
Prosecutor Alan Blake said: "In the light of the psychiatric evidence and unanimity about the mental illness suffered by this defendant, the Crown reviewed the matter with care and sought the views of family members.
"On the tragic facts of this case it was determined that it was appropriate to accept the plea of not guilty to murder but guilty to manslaughter by diminished responsibility."
Dr Julia Cartwright, who has been treating Jackson since last year, told the court she believed she was a paranoid schizophrenic.
Jackson's history of mental health issues date back to her mid-20s, and in 2015 Tyler was taken into foster care for a time. An independent case review has started.
Judge Pringle made Jackson the subject of an indefinite hospital order under the Mental Health Act.
He said: "Were it not for the paranoid schizophrenia in this case, the offence would never have been near to being committed."