Abingdon reservoir proposals questioned by Oxfordshire County Council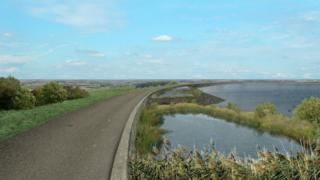 Thames Water is facing questions from county officials and campaigners over proposals for an Oxfordshire reservoir.
The company has revived plans - rejected by the government in 2011 - to build the reservoir near Abingdon.
Thames Water said the reservoir, which it wants to have built by 2043, is needed because of future demand.
Oxfordshire County Council said the plans raised a "series of questions" and has requested more information from the company.
And the Group Against Reservoir Development (Gard) said it was not needed, and it would fight the proposals.
The proposed reservoir would be between Steventon and Marcham, hold 150 million cubic metres of water, and provide up to 66 million gallons (300 million litres) of water per day.
Thames Water predicts the population in the area will increase by 15,312 by the end of the century, and by six million across the area that it covers.
The Campaign to Protect Rural England in Oxfordshire said the figures were "over-estimated".
"[When] combined with a reduction in leaks, there would be no need for the reservoir at all," it said.
Gard deputy chairman Nicholas Thompson said: "To bring it back again so quickly and in exactly the same form, or in a bigger form that was previously proposed, has really rather shocked everybody."
Oxfordshire County Council has asked Thames Water for more details on its calculations on population growth and water usage.
Thames Water is carrying out a consultation on its draft water plan until the end of the month.