Oxford May Morning: New measures to tackle crowd problems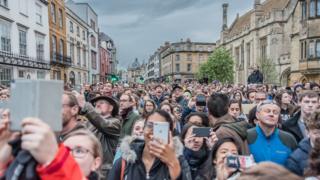 New measures are being brought in to tackle the large crowds during Oxford's annual May Morning celebrations.
A record-breaking 27,000 people descended on the city last year, with large numbers congregating on the High Street and Magdalen Bridge.
One-way channels are to be introduced to help the crowds flow more easily, after people were blocked in when they tried to leave in 2017.
In addition, bicycles, either ridden or pushed, will be banned from the bridge.
Oxford City Council said the crowd management system would mean people will not be allowed to stop in the channels, with stewards and signs directing them to areas where they can view the event.
If the bridge becomes full, people will not be allowed access.
The May Morning festival, held on the first day of the month, has been a tradition for more than 500 years.
It begins at 06:00 BST as Magdalen College Choir serenades the congregation from Magdalen Tower.
The bells are then rung - the movement of which typically makes the tower sway up to 4in (10cm).
The council described how last year "those wishing to leave towards east Oxford encountered an unusually high number of people wanting to come into the city from the Plain roundabout, and an impasse ensued on Magdalen Bridge".
The new system will include designated viewing areas for wheelchair users and families with young children for the first time, in the car park of Magdalen College School and in Rose Lane.
Paula Redway, the council's cultural development manager, said: "We take crowd safety incredibly seriously and, following last year's May Morning, the city council and event partners have been working hard to make sure that the crowd problems are not repeated."