Lord Berners: Flamboyant lord's possessions auctioned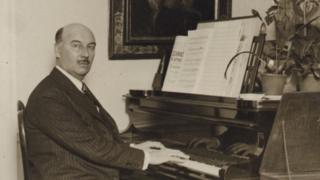 Possessions belonging to the composer, writer and painter Lord Berners are to be sold at auction later.
The flamboyant and eccentric peer had a celebrity circle of friends and was portrayed as Lord Merlin in the Nancy Mitford novel The Pursuit of Love.
He was known for extravagant parties at Faringdon House, Oxfordshire, where he lived before his death in 1950.
Visitors included the poet John Betjeman, author HG Wells and surrealist artist Salvador Dali.
Auctioneers Christie's said he turned the property into an "aesthetes' paradise" and his possessions were highlights of a sale of the property's contents.
The novelist Nancy Mitford once said second best was never tolerated at Faringdon House "either in comfort, conversation or in manners".
The peer, who was born Gerald Hugh Tyrwhitt-Wilson, was known to keep a pet giraffe which would eat tea with him in the drawing room of the house.
He also built a folly tower at the house for his lover Robert Heber-Percy, and the pair kept pigeons at the estate which were dyed pink.
Items up for sale at Christie's include a George II giltwood mirror estimated to be worth between £30,000 and £50,000.
A four-poster bed and an inscribed copy of Salvador Dali's Metamorphosis of Narcissus are also listed.