Oxford City Council wins court order to move travellers on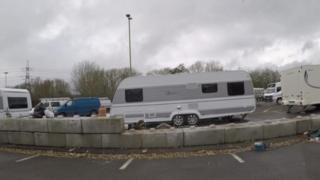 A court order has been issued to a group of travellers who have been encamped on an Oxford public car park for more than two weeks.
About 36 caravans have been parked on Redbridge Park and Ride since 10 March.
A possession order granted on Monday is to be served on the travellers while the council asks for a warrant to have bailiffs clear the site.
Councillor Alex Hollingsworth said it was "extremely frustrating" the order had taken so long to obtain.
"I now look forward to the warrant for possession being served quickly so that this occupation can be ended," he added.
In February about 50 vehicles occupied Peartree Park and Ride in Oxford for more than a week disrupting the use of the service.
Redbridge Park and Ride, which has about 1,400 spaces, remains open to the public and buses, Oxford City Council said.