Oxfordshire to get £215m funding for 100,000 'much-needed homes'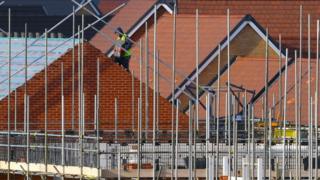 One hundred thousand news homes are set to be built in Oxfordshire by 2031 after £215m in funding was announced by the government.
Secretary of State for Communities and Local Government Sajid Javid said £3m was also being invested in housing projects in the west of England.
"Much-needed homes" would be built, "giving more people the opportunity to get on the property ladder", he said.
But campaigners have said the plans do not include enough affordable housing.
The deal in Oxfordshire was confirmed with its six councils and the Local Enterprise Partnership OxLEP.
The government said the new homes would play a "key role" in the Cambridge-Milton Keynes-Oxford corridor.
Meanwhile, £150m of the funding will go towards bridges, roundabouts and roads and £60m towards affordable housing.
The government said it would increase the number of homes built each year in the west from about 4,000 to 7,500.
'Twisted notion'
Speaking on the Today programme, Minister of State for Housing Dominic Raab said: "What we're doing is saying to those ambitious local authorities in Oxfordshire and elsewhere, where they're willing to build the homes... we're providing the infrastructure that unlocks those homes."
Helen Marshall, director of Campaign to Protect Rural England in Oxfordshire, said: "Our local authorities are so strapped for cash that they are selling us down the river for a pittance.
"They have committed to building over 30% more houses than even the government says we need, with no public consultation and without thinking about the environment."
She added: "The deal is only committing to 1,300 affordable houses over the whole 13-year period.
"Many will simply be based on this twisted notion of affordability... which in Oxfordshire still puts them out of reach of the vast majority."
The government also announced it had shortlisted 44 other housing infrastructure bids for £4.1bn of funding.
The first successful bids will be announced in the autumn.