Man found guilty of 'savage' Banbury stabbing murder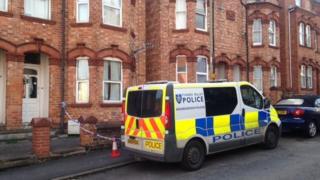 An addict who "savagely" killed a man over a drug deal at a flat in Oxfordshire has been found guilty of murder.
Raymond Morgan, 53, inflicted more the 20 stab wounds on Mark Pawley 25, in the attack on 1 October.
But he was found not guilty of murdering Adrian Fannon, 39, who was also found stabbed to death in Newland Road, Banbury.
All three men were heroin and cocaine addicts, prosecutors said.
Prosecutor Adrian Redgrave QC said Mr Fannon's body was propped up against a TV stand "completely naked", while Mr Pawley's partially-clothed body was in a different part of the living room.
He said Mr Pawley was killed in a "sustained and savage attack" over a drug deal inside the flat where Morgan lived.
The jury was told two knives and a broken chair were found in the flat and there was blood on the walls, sofa and TV.
Defence barrister Tracy Ayling QC told a jury at Oxford Crown Court they "cannot rule out" that Mr Fannon and Mr Pawley had a fight.
"The defendant had become so addicted to crack cocaine that his wife could no longer stand it, he had to leave," Mr Redgrave told the jury.
He said Mr Morgan visited a police station on 1 October and, in the hours that followed, provided three different accounts of what happened.
In one version he said he stabbed both men after an epileptic fit, in another he suggested two black men were responsible and, in a third version, he said the victims attacked each other before attacking him.
Morgan will be sentenced on Friday.