Oxfordshire hospitals see surge in 12-hour waits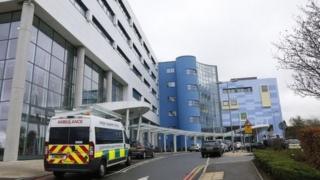 Patients waited for more than 12 hours at A&E departments in Oxfordshire on 50 occasions in a single week in January, it has emerged.
The figure was "significantly above the number reported for many years", an Oxford University Hospitals NHS Foundation Trust (OUH) report said.
Director of clinical services Paul Brennan said it very much regretted the waits experienced by patients.
He added pressure on beds was "very high" in January.
In total, there were 53 occasions when patients at the A&E departments at Horton General Hospital in Banbury and the John Radcliffe Hospital in Oxford waited for more than 12 hours before admission.
The figure was the sixth highest recorded by any NHS trust in England in January.
It also represented a large increase on OUH's figures for December, when 19 patients waited more than 12 hours.
Meanwhile two patients had waits of that length in November.
'Closed too many beds'
Mr Brennan said: "January saw an increase in patients brought into our emergency departments by ambulance, as well as an increase in seriously ill patients."
He said they also had about 170 patients "at any given time" who were medically fit to leave but needed care arranging before they could be discharged.
"All this means that there has been very high pressure on our beds with very little spare capacity," he added.
Prof George Smith, Chair of Healthwatch Oxfordshire, said the trust's beds were "blocked up".
He said: "[They] have closed too many beds and they are not able to get the patients in there out when they are ready to go."
He said this created a "log jam" which could not be solved by the hospital without "radical improvement" in community services.