Police 'aware' of Poundland killer before fatal stabbing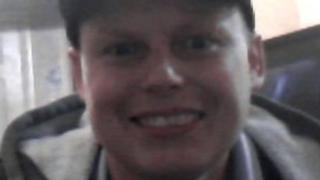 Police were aware of the erratic behaviour of a man who went on to carry out a fatal stabbing in a Poundland, an inquest has heard.
Trevor Joyce killed Justin Skrebowski with a knife from the shop in Abingdon, Oxfordshire, on 7 December 2015.
Supt Rory Freeman told Oxford Coroner's Court: "We were aware of his behaviour. I don't think we really understood his complex mental health needs."
In October 2015 Joyce was arrested by police four times in one week.
Crucial information may not have been shared about the paranoid schizophrenic, the inquest heard.
Supt Freeman said: "We could have been more connected and co-ordinated.
"At every point with Mr Joyce we should have been doing something. It didn't happen on every occasion."
When asked if there was a lack of communication from NHS mental health services, he said: "Communication doesn't appear to be at the level I would have expected".
He added that lessons had been learned, and structures changed.
The inquest previously heard that Joyce had started carrying a knife, and placed a death threat through his neighbour's door before he was voluntarily admitted to Littlemore Mental Health Centre.
Sean Horstead, acting on behalf of Mr Skrebowski's family, said Joyce cut himself during a visit to the shop four days before the killing.
But he said the incident was not reported to the police, despite Joyce telling his psychiatrist shortly afterwards.
In 2016 he was jailed for life after pleading guilty to the manslaughter of Mr Skrebowski, an antiques dealer who had been buying balloons for his wife's birthday.
He was charged with murder, but admitted the lesser charge on the grounds of diminished responsibility and was ordered to serve a minimum of nine years.
The inquest continues.