Killer 'threatened to murder neighbour' before Poundland attack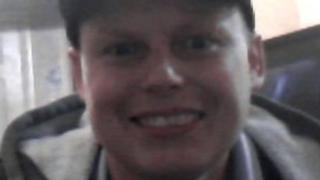 A killer who fatally stabbed a man in a Poundland store had previously threatened to murder his neighbour, an inquest has heard.
Trevor Joyce attacked Justin Skrebowski with a knife from a shop in Abingdon, Oxfordshire, in December 2015.
Dr Phil Davison told Oxford Coroner's Court he was admitted and discharged from a mental health centre after he confessed to threatening a neighbour.
In 2016, Joyce was jailed for life after pleading guilty to manslaughter.
He was charged with murder, but admitted the lesser charge on the grounds of diminished responsibility and was ordered to serve a minimum of nine years.
The inquest, which opened earlier, will examine the treatment given to Joyce, who has been diagnosed with schizophrenia.
Consultant Psychiatrist, Dr Davison, from Oxford Health NHS Foundation Trust, said Joyce's mental health had started to "deteriorate" prior to the attack.
In October 2015 he was arrested four times in one week, had started carrying a knife, and placed a death threat through his neighbour's door before he was voluntarily admitted to Littlemore Mental Health Centre.
The psychiatrist said Joyce told him he knocked on his neighbour's door and would have killed them, had they been in.
Dr Davison sent an email asking to be consulted before Joyce was discharged but told the inquest this did not happen.
Six weeks after being allowed to leave on 28 October, Joyce killed Mr Skrebowski, an antiques dealer and who had been buying balloons for his wife's birthday.
Joyce was diagnosed with a psychotic illness in 1997 and had been sectioned under the Mental Health Act on three occasions.
Following his death Mr Skrebowski's wife Gulsen Alken has fought for tighter restrictions on the sale of knives in shops, and pushed for the inquest to take place.
It is scheduled to run for two weeks, with more than 40 people due to give evidence.