Oxford cable car plan wins support from council leader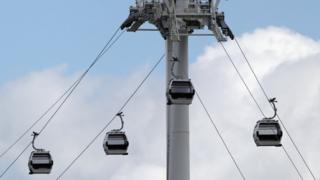 The use of cable cars in Oxford may be seriously considered after the idea was floated by the Green Party.
Green councillor Dick Wolff said they would be cheaper than trams and could take people to Oxford's main hospital.
The idea has received backing from Oxfordshire County Council leader Ian Hudspeth, who told BBC Radio Oxford it should be looked at.
Mr Hudspeth said they were looking for new ideas to tackle congestion even if it might seem "off the wall".
He said: "We can't build more roads in Oxford, we know we're constrained by buildings.
"Now if this is an alternative by using the space above... I don't see why we should not consider it."
No costs have been produced by the Green Party as it is not known what route a cable car could take.
Mr Wolff said they wanted to get the idea "into the mix" so transport planners could see where it might make a difference.
It is not the first time unusual ideas have been floated to ease congestion in Oxford.
In 2015, councillors approved plans for a £1bn network of traffic tunnels.
Mr Hudspeth said Oxfordshire County Council wanted to look at different forms of transport for key routes into Oxford and were ready to think "outside the box".