Anger over Isabel Oakeshott disabled parking tweet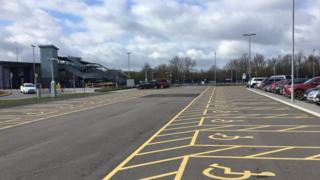 A tweet by journalist Isabel Oakeshott taking aim at the number of disabled parking spaces at a train station has sparked anger on social media.
She posted the picture of empty blue badge bays at Oxford Parkway along with the message "a triumph of political correctness over common sense".
Ms Oakeshott said the spaces were disproportionate, "unless the Paralympics are coming to Oxford".
In reply many users highlighted the number of spaces for all drivers.
Brian O'Callaghan said "That is, Oxford Parkway, a vast car park. How many non-designated spaces were also vacant?"
Another user, Tristan, tweeted "there are around 700-800 non disabled spaces there and 40 disabled. Don't see what the problem is."
"Depends if you put principle over pragmatism, which is a reasonable debate to have", said Ms Oakeshott in a reply.
The National Rail website said Oxford Parkway station had 800 spaces of which 40 are accessible spaces.
Ms Oakeshott, who was political editor of the Sunday Times until 2014, co-wrote an unauthorised biography of Prime Minister David Cameron with ex-Conservative Party treasurer Lord Ashcroft.