Oxford flats explosion was 'likely' an accident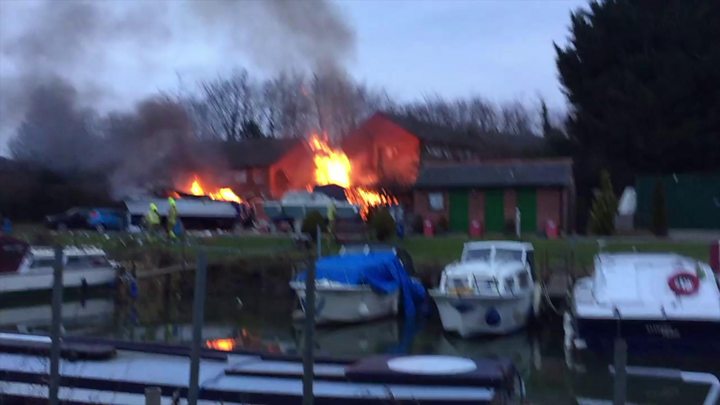 An explosion that destroyed three flats and killed a man was likely to have been an accident, an inquest has found.
Guido Schuette, 46, died in the blast in Gibbs Crescent in Oxford on 14 February last year.
Oxford Coroner's Court was told Mr Schuette was heard making threats "to blow this place up" in a row over noise several days before the blast.
But firefighter Bob Speakman suggested a petrol vapour cloud may have accidentally ignited inside the flat.
In a narrative verdict Oxfordshire coroner Darren Salter said he could not rule out the chance it was caused deliberately but considered it was "less likely".
CCTV revealed he bought 60 litres of fuel in the four weeks prior to the explosion.
Mr Speakman described Mr Schuette's flat as "less of a residence and more of a car workshop" filled with wheels, alloys, and car batteries.
Mr Schuette had four cars registered to him, including two Mercedes.
Mr Speakman said: "If Mr Schuette was intending to destroy the flat, why leave 20 litres untouched? Why not use it all?"
He added: "Three of the four [containers] had lids attached. A desperate person is less likely to leave lids attached.
"It was most likely accidental in nature caused either by a spark from smoking, or homemade electrical equipment."
He suggested a spark during vehicle testing could have ignited a vapour cloud.
Det Sup David Whittle, of Thames Valley Police, also hypothesised the blast was an accident, following an accumulation of petrol vapour.
Ceiling fans would have circulated fuel in the air, the court heard.
However, the coroner was told neighbour Ian Francis heard Mr Schuette shouting several days before: "I'm going to blow this place up. God sent me to do it."
The inquest also heard Mr Schuette was involved in an ongoing noise dispute with another neighbour and was upset with his landlords.
Consultant psychiatrist Dr Janet Patterson said his shouting could be interpreted as a "playground threat" to get what he wanted.
There was no clear evidence of a psychotic illness and no genuine signs he would commit suicide, Dr Patterson said.
She added: "He was a difficult character who had his way of doing things. He didn't get on with a lot of people."
Dawn Wightman, from housing association A2Dominion, said it had no knowledge of how Mr Schuette was using his flat.
However, he had been warned about storing containers in the communal area, she said.
The inquest also heard from Michael Gurvitz, who spoke to Mr Schuette on the day of the explosion.
He said he was distressed, because no one was listening to his problems.
Witness statements from Mr Schuette's mother Angelika and brother Andreas described him as a "loner" who had grown distant from them, probably due to mental health issues.
As well as the flats destroyed by the explosion, a further five had to be dismantled on the advice of structural engineers.