Electric vehicle motor factory opens in Oxfordshire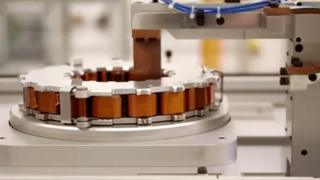 A new electric motor factory has been officially opened in Oxfordshire.
Motor manufacturer YASA has said it will build up to 100,000 motors for hybrid and electric vehicles each year at the facility and create 150 jobs.
The company, based at Oxford Industrial Park, Yarnton, aims to export 80% of the technology across the world, including China.
It was opened by business secretary Greg Clark.
He described it as "testimony to what can be achieved through our industrial approach, when academia, government and industry come together".
Research at the University of Oxford helped get the company off the ground.
The Department for Business, Energy & Industrial Strategy said YASA was working with companies like Jaguar and Williams to give vehicles the "speed of a Bugatti Veyron but the emissions of a Toyota Prius".
Dr Chris Harris, YASA's CEO, said the electric car market was "rapidly expanding".
"YASA is a great example of what the UK can and should expect to achieve if we invest in the innovative and creative ideas emerging from our best universities," he added.
The government hopes the factory will help facilitate its industrial strategy, contributing to its commitments to tackle climate change.