Helen & Douglas House to cut care for adults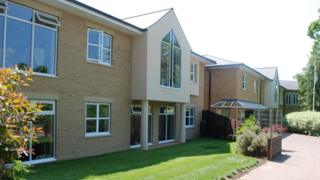 A hospice charity will stop caring for adults and cut its workforce by 40% in a bid to stay open.
Helen & Douglas House in Oxford employs 149 staff and provides specialist palliative care for the terminally ill from children to adults aged 35.
But Elizabeth Drew, chair of the trustees, said the organisation had to adopt a "prudent approach to reduce the service in line with what we can afford in order to keep the hospice open".
The changes will take effect in August.
The hospice estimated its income over the last five years was £52.3m, against costs of £55.9 million.
A spokeswoman said it was overspending by about £1m each year, and would run out of money in two years if changes were not made.
As well as carrying out a review of its 37 charity shops it will also make cuts around the senior leadership team.
It blames a "challenging and highly competitive fundraising environment".
Ms Drew said: "We have been working for some time to reduce our operating costs and despite savings made last year we reluctantly conclude that these were not sufficient to sustain the organisation for the long term."
She added: "The changes we are about to make will ensure the charity is able to provide specialist palliative care to terminally ill children, young people and their families for decades to come.
"We are confident that this places the organisation on a firm foundation from where it can evolve to meet the emerging needs of our young patients."
The charity said it would help find alternative arrangements for the young adults and families currently in its care.
Helen House, for children, opened in 1982 and was followed by Douglas House in 2004 as a hospice for young adults.
David Cameron's son Ivan received care at Helen House before his death in 2009.