Wild boar warning for west Oxfordshire dog walkers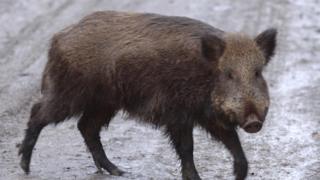 Dog walkers are being warned to take precautions after two possible sightings of wild boar in west Oxfordshire.
Both reports came from a wood near the village of Freeland. A sign has now gone up by one of its entrances.
They were seen by "regular dog walkers" said Lisa Clark, clerk of Freeland Parish Council.
The walkers knew the difference between a boar and a muntjac and were "adamant it was a wild boar", she added.
The most recent sighting - which took place earlier in January - was of a young piglet, said Ms Clark, and followed an earlier report of an adult boar about two months ago.
A notice from Oxfordshire County Council's countryside access team has since been placed by an entrance to Broad Marsh Wood to warn walkers.
It said dogs should be kept on a lead in the area and wild boar should not be approached if spotted.
---
Wild boar in Britain
They were extinct in the UK until the 1980s when it is thought some were able to escape or were illegally released from farms
The largest numbers of wild boar live in the Forest of Dean in Gloucestershire, but populations have also been found in Kent, Dorset, and Devon
Boar live in areas of woodland and are most active during the night
They live in groups called sounders
Source: Woodland Trust
---
Wild boar have previously been reported in the area: In 2015 the Oxford Mail said they had been seen close to nearby village North Leigh.
Both villages are near to the Blenheim Palace estate but a spokesperson for the estate said no sightings had been reported on its land.