Eighteen men accused of sex offences found not guilty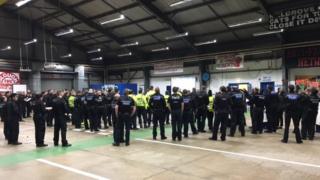 Eighteen men accused of grooming and sexually abusing teenage girls in Oxfordshire have been found not guilty.
They were arrested in March and April last year as part of Thames Valley Police's Operation Nautical.
Seven were acquitted of dozens of charges, including conspiracy to rape, after a trial at Oxford Crown Court that ended in December.
Now 11 men have been cleared of similar offences after the Crown Prosecution Service (CPS) dropped their cases.
A legal restriction previously prevented reporting of the first trial. The cases related to alleged offences committed against three girls between 2008 and 2015.
At a hearing at Blackfriars Crown Court, not guilty verdicts were formally recorded for the 11 defendants on all counts, ahead of the planned start of their trial this week.
'Review the investigation'
A police spokesman said the decision was taken after the CPS determined there was "insufficient evidence for a realistic prospect of conviction".
He added that the dismissal of the case was not related to the issue of disclosure, which has recently caused several rape trials to collapse.
Det Ch Insp Mick Saunders, said: "We will review the investigation, as we would in all such cases, to identify whether there is any learning for future investigations of child sexual exploitation."
The seven defendants acquitted in December were: Shabir Dogar, 23, Shabaz Khan, 24, Shohab Dogar, 23, Yasin Hamid, 20, Usman Iddris, 24, Joseph Suraina, 23 and Ajay Kumar-Lal, 22, all from Oxford.
The other 11 are: Leon Cole, 20, Atiq Hussain, 24, Qamran Hafiz, 25, Tafail Mohammed, 24, Marcelo Suarez, 21, Abdul Sarfraz, 32, Nasser Younis, 38, all from Banbury, Ahsan Raza, 20, from Birmingham and Waqas Rasual Hussain, 24, Aamir Arfi, 24 and Atique Saeed Akhtar, 24, all of no fixed address.