Oxford Brookes University submits 500-homes plan for Wheatley campus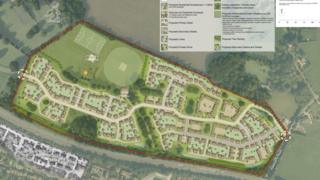 Oxford Brookes University has submitted plans to demolish one of its campuses and replace it with 500 homes.
The proposals for Wheatley Campus, seven miles from the city centre, include 200 affordable homes, sports facilities and a children's play park.
The university said the campus is part of its "estates investments plan" and will relocate the current teaching and residential facilities by 2022.
South Oxfordshire District Council will discuss the plans at a later date.
Wheatley villagers are divided over the proposals off the A40 London Road.
Anne Gee on the Wheatley Village Facebook page commented: "More houses that the young/working class can't afford what's the point ???? This is not a village anymore."
Evelyn Hillier commented: "Without additional infrastructure and sewage works improvement this is short-sighted. The traffic through Wheatley is horrendous already and this will increase the bottleneck so just plonking up to 500 houses there and walking away can't be allowed."
Others, such as Mary Tapper, saw the plans as a positive: "I think this seems a good use for the site and look forward to seeing it happen! We need houses for people and it will make sure that the shops and library in Wheatley are used more. I do hope some of the housing is genuinely affordable, rather than in name only!"
The plans come after Oxford Brookes had plans approved for an 885-room halls of residence by Cowley Barracks off James Wolfe Road.
The latest Strategic Market Housing Assessment report for Oxford recommended at least 106,500 homes are needed across Oxfordshire by 2031.