Five things in Oxfordshire
Here are five stories from Oxfordshire which have been attracting attention this week.
1) Houston we have a problem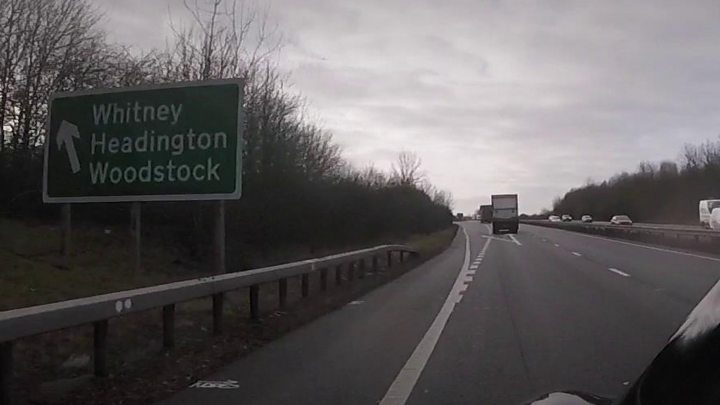 A road sign that led to jokes on social media about a west Oxfordshire town being accidentally named after Whitney Houston has been removed.
The Witney sign, which includes an extra "h" and was put up by the Highways Agency, was spotted on an A34 slip road north of Oxford.
Fans of the late singer responded with jokes and graphics on Twitter.
Highways England said it was looking into how the sign escaped its "quality control checks".
2) Oxford's Broad Street closed because of sinkhole
A historic Oxford street was closed this week after a sinkhole appeared in the middle of the road.
It was found on Broad Street outside the Sir Christopher Wren-designed Sheldonian Theatre early on Tuesday.
Oxfordshire Fire and Rescue Service said the small hole concealed a much larger cavity underneath, and water was found inside it.
The repair by Thames Water took longer than anticipated, but on Friday the company said the road was due reopen at about 16:00.
3) Tortoise just 322m away from home after six-month disappearance
An escaped tortoise, who went missing for six-months, has been found just 322 metres from home having crossed a busy road.
Nine-year-old Tallulah was relaxing in her Oxford garden last July when she "scarpered" through a foxhole.
She then crossed busy Gipsy Lane and endured two falls of snow before being found at Cheney School opposite.
Tallulah, who was microchipped, is now recovering at a local vets.
4) BOC pays woman's asbestos-caused cancer treatment costs
A woman with cancer caused by asbestos exposure is having life-saving private treatment in what has been called a "first-of-its-kind" settlement.
Pamela Stubberfield, 74, said "she wouldn't be here" without the drugs paid for by ex-employer BOC.
She was exposed to asbestos in her job in the early-1960s and diagnosed with mesothelioma in 2016.
The cancer can take decades to develop, but kills about 90% of patients within five years of diagnosis.
5) U's boss Pep Clotet sacked
And this week saw the end of Pep Clotet's time in charge of Oxford United.
The 40-year-old Spaniard, who took over in July, was dismissed on Monday following Oxford's 2-1 loss at home to League One's bottom side Bury on Saturday.
"The board has taken the decision after much consideration, and in the best interests of Oxford United FC," a statement read on the club website.
On Thursday, Clotet posted a message on Twitter thanking the club and its supporters.