Tortoise just 322m away from home after six-month disappearance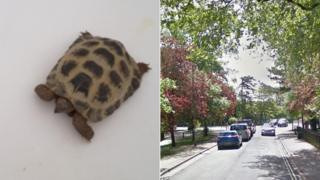 An escaped tortoise was left shell-shocked after going missing for six-months just 322 metres from home having crossed a busy road.
Nine-year-old Tallulah was relaxing in her Oxford garden last July when she "scarpered" through a foxhole.
She then crossed busy Gipsy Lane and endured two falls of snow before being found at Cheney School opposite.
Owner Danielle Morris said she was "amazed she didn't get splattered crossing the road".
Tallulah, who was microchipped, is now recovering at a local vets.
Ms Morris said her family was "gutted" when the pet disappeared.
"We let her out into the garden so she could chew the plants," she explained.
"But you have to keep an eye on them because once the sun hits tortoises they're solar-powered - she races up to the end of the garden.
"We didn't realise we'd had a fox in the garden. It had made a hole, and she scarpered."
The family lost hope of finding Tallulah when attempts to track her down with posters and social media failed.
'Camouflaged in grass'
"We thought someone had found her and taken her because they're expensive pets," Ms Morris said.
"She's done two snowfalls and by all accounts we wouldn't have expected her to survive."
But Tallulah turned up on Wednesday, when a group of pupils spotted her "camouflaged in the grass".
Assistant head Charlotte Broom said: "There it was, bless it, making its way across our greenery.
"The best thing to do was to get a box, and I decided I'd be brave enough to pick it up and make sure we could keep it safe."
RSPCA animal collection officer Grace Mead said: "She looked like she had lost weight and possibly had an issue with her eye.
"We now hope she makes a full recovery and does not go on any more adventures."