Carterton Town Council asks mayor to quit over payments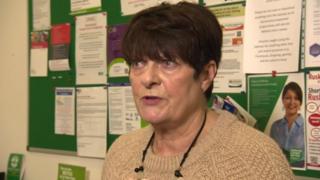 A mayor in west Oxfordshire has been asked to resign by her council and pay back nearly £5,000.
Carterton Town Council said the sum it wanted from Lynn Little partly related to payments from the mayor's allowance account to an organisation she manages.
Deputy mayor Nick Leverton said an external auditor had been asked to look at the account after the town council's clerk raised concerns.
The BBC has approached Mrs Little for comment.
The council said the matter would be passed to its solicitors if Mrs Little did not agree to reimburse £4,832.
As well as the allowance payments, it said some of the sum related to tickets to outside events and for tickets for Mrs Little's guests at a civic event in 2017.
'Tarnished' reputation
The mayor's allowance account is for donations to charities or to offset expenses arising from fundraising, the council said.
Deputy mayor Nick Leverton confirmed a "no confidence" motion has been passed by councillors but said she remained the town's mayor.
"She can stay as long as she likes. She is not obliged to step down, she can soldier on, for want of a better term, to the end of her term in May."
He added that although the council's reputation had been "tarnished", he was pleased the matter was out in the open and said the authority would learn from any mistakes.
Thames Valley Police said a report of alleged fraud at Carterton Town Council was referred to its officers on 10 November 2017.
No arrests were made or charges brought and the investigation had concluded, the force said.