Oxford sinkhole repair will take longer than expected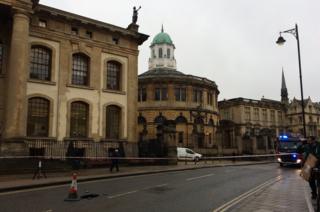 Work to repair a sinkhole which opened up in the centre of Oxford is to take longer than expected.
It was discovered early on Tuesday close to the Sir Christopher Wren-designed Sheldonian Theatre on Broad Street.
Thames Water had initially hoped to reopen the road on Wednesday afternoon.
But it said it now expects work to continue until "the end of the week" as it is a "complex" job in a historically important area.
The hole is about 30cm wide on the surface but stretches for about a metre in either direction below.
Thames Water is working with Oxfordshire County Council's archaeologist to carry out the repair.
It said there was a leak on a six-inch water main which lies below another eight-inch pipe.
The Sheldonian Theatre - which was opened in 1669 - serves as the official ceremonial hall of the University of Oxford, as well as a concert venue.
The nearby Weston Library has underground book storage in the area, and a tunnel which connects it to the Old Bodleian.