AWE bids for 'more realistic' nuclear terrorism tests licence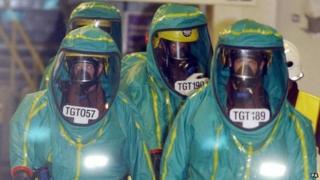 The UK's nuclear warhead factory is bidding for a licence change to run "more realistic" tests in preparation for "nuclear terrorism".
The Atomic Weapons Establishment (AWE) in Berkshire wants to raise levels of radiation it can release from its site.
Tests at AWE involve high levels of radiation but a "very small" amount is released in steam to the atmosphere.
The dose from proposed changes will be well within the Environment Agency's safe limit, it says.
Plans for the site in Aldermaston are in response to heightened "concern over the possibility of nuclear terrorism in the UK".
AWE says that not allowing this increase could adversely affect any analysis should a "real event" occur.
Conservative MP for Newbury, Richard Benyon, said: "This [a nuclear terror attack] remains a threat that the government quite rightly are preparing for - that and dirty bombs."
Adding: "To put [the radiation levels] in context, this means the greatest impact on local people would be 0.007% of the UK average annual radiation dose."
The current limit is stopping scientists carrying out tests mimicking such a "real event".
How do the radiation levels compare?
Proposed new exposure to public from AWE - 0.16 µSv
135g bag of Brazil nuts if eaten - 5 µSv
Chest X-ray - 20 µSv
Transatlantic flight - 70 µSv
UK average annual radiation dose from environmental sources - 2300 µSv
Average annual radon dose living in Cornwall - 7800 µSv
Whole body CT scan - 10000 µSv
UK Annual Dose Limit for Nuclear Workers - 20000 µSv
µSv (microsieverts) = the unit of measurement of the health effect on the human body
Chair of Aldermaston parish council, David Shirt, who sits on the AWE Local Liaison Committee, says he is "worried" about the "fairly significant increase".
But he adds he is confident decisions made by the Environment Agency and the Office for Nuclear Regulation (ONR) will ensure it is safe.
What are the tests?
Mr Benyon points to the example of Alexander Litvinenko, who died in a London hospital after he was poisoned with Polonium 210.
The AWE was "able to trace the footprint of where this poor man was murdered and where his murderers were with the poison", he said.
The changes proposed in the application to the Environment Agency would take their limit from 4.4 MBq of volatile beta emitters per year to 100 MBq per year.
This would see AWE return to the levels permitted on the site before 1998, when underground tests (UGTs) were carried out.