Charles Bronson art removed from Oxford homeless auction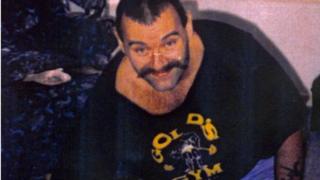 Artwork by famous prisoner Charles Bronson has been removed from an auction raising money for Oxford's homeless.
The notorious inmate has been in prison for 44 years, is currently serving a life sentence for kidnapping, and had a biopic made about his life.
The 63-year-old, now called Charles Salvador, had donated five signed drawings to Oxford group Homes4All.
But the group said it has now had to remove the art from the auction.
It was not able to provide further details, but team member Tami Warriner previously said Homes4All were "super excited" to have Bronson's support.
The former bare-knuckle boxer, who was first jailed for armed robbery in 1974, is serving time in HMP Wakefield and was refused parole in November.
Ms Warriner said she has corresponded with the prisoner for about 10 years and asked if he would submit artwork for their auction.
"I asked if he would be willing, and we were super excited to receive not one piece but five," she said.
In November a parole board ruled that Bronson should not be released or moved to an open prison. He must now wait another two years for a review of his case.
The 63-year-old is serving a life sentence for robbery and kidnap and has gained notoriety for a history of violence inside and outside jail.
Luton-born Bronson recently got married to former Emmerdale and Coronation Street actress Paula Williamson inside the West Yorkshire prison.
Ms Warriner said Bronson has been in prison for "too long" and added: "All he wants is to be able to progress through the prison system like anyone else."