Pigeon's WW2 medal sells for £7,200 in Banbury auction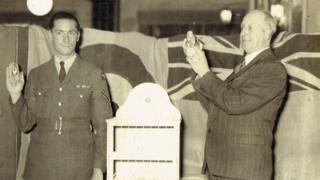 A World War Two medal, which was awarded to a carrier pigeon, has fetched £7,200 at an auction.
The People's Dispensary for Sick Animals (PDSA) Dickin Medal was given to a pigeon that flew from the Greek island Crete to Alexandria, Egypt.
The 406 mile (653km) flight took place in 1943 and the accolade was awarded to the bird called Princess in 1946.
It was sold to an internet buyer by the family of the trainer at Holloway's Auctioneers, Banbury.
The PDSA, which created the medal in 1943, said the flight by the was one of the "finest performances" in the war record of the National Pigeon Service.
The service operated in World War Two when thousands of pigeons were used in the war effort, according to The Royal Pigeon Racing Association.
James Lees, senior valuer and auctioneer, said this pigeon carried "important information", possibly detailing atrocities carried out by Nazi forces in Crete.
On her return to the UK, he said the bird become "a celebrity" and went on tour before she died from a disease.
Her death meant a "lookalike" pigeon had to be used for the Dickin award ceremony in 1946, he added.
The Dickin Medal was created by the PDSA's founder Maria Dickin to commemorate bravery by animals in armed conflict.
Of the 69 Dickin medals ever awarded, 32 have been presented to pigeons.