'Sadistic' couple jailed for campaign of child abuse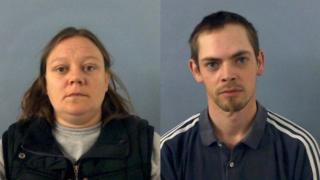 A couple found guilty of the "physical, mental and emotional abuse" of two boys have been jailed.
Lisa Pratt, 36, and Andrew Clent, 30, were both convicted of two counts of child cruelty in Witney between January 2010 and April 2015.
The court heard how the children were beaten, force fed, and made to take scalding hot showers.
A jury at Oxford Crown Court also found Pratt guilty of inflicting actual bodily harm on another teenager.
She was described as having carried out most of the abuse and was jailed for seven years, while Clent was given four.
Prosecutor Jane Brady said the children, who cannot be named for legal reasons, "were subjected to very cruel acts on a frequent, if not daily, basis".
'Abominable and sadistic'
She said one of the boys was throttled with a towel until "everything went black", and on another occasion had his head held underwater.
The barrister said they were sometimes prevented from using the toilet and ended up soiling themselves, and were not allowed to have friends.
When social workers came round the pair were told "if they didn't put on a show of everything being fine they would be punished", Miss Brady said.
The abuse came to light after neighbours witnessed a third teenager being held down and repeatedly kicked and stamped on in April 2015.
Judge Zoe Smith said Clent was different when his partner was not around, and might have been scared of her, but did not do anything to protect the children.
Sentencing them she said their treatment of the two boys had been "abominable" and "sadistic".