Museum of Oxford extension costs increase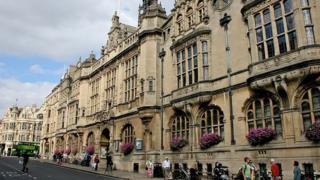 The amount of public money to be spent extending the Museum of Oxford has tripled after the estimated building costs went up.
The project, which will see the museum at Oxford Town Hall triple in size, is set to cost £2.8m, about £600,000 more than previously thought.
Oxford City Council will now increase its contribution to the project from £315,000 to £926,654.
Its executive board approved the move at a meeting on Tuesday.
A report by council officers said costs had risen following building survey work and requirements from Historic England.
However, Historic England said it had made "observations" which were unlikely to have had a significant impact on the cost of the project.
The authority intends to raise the rest through grants and fundraising, although a further £413,452 will be set aside by the council should the target not be reached.
The Museum of Oxford aims to tell the story of the city and its residents and the extension will see the number of exhibits increased from 286 to 750.
This expansion would help increase "cultural tourism" and spending in Oxford, the report said.
Construction is expected to start in 2019, if planning consent and funding is secured, with the museum opening in 2020.