Banbury Health Centre under closure threat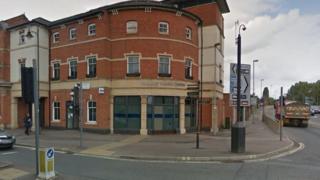 A health centre with about 6,000 patients in Banbury is threatened with closure in a reorganisation of GP services.
Those registered at Banbury Health Centre would move to a larger practice with 30,000 patients created by merging Woodlands Surgery and West Bar Surgery.
It is a "preferred option" put forward by Oxfordshire Clinical Commissioning Group (OCCG).
It is due to consult the public on the plans in January.
The proposals are revealed in a report by OCCG to be considered by Oxfordshire County Council.
It said there was an opportunity to create a new model for Banbury's GP practices, which have faced "significant difficulties", partly due to recruitment problems and increasing demand.
The contract with PML, the not-for-profit organisation which runs Banbury Health Centre, ends in March.
'Incredible pressure'
A second preferred option would see a new practice operating out of all three buildings.
Finding a new organisation to take over from PML is also an option but OCCG said it would be difficult to find a provider as it is a small practice.
That option would also be likely to be the most expensive, it said.
Tony Summersgill, PML director of clinical services, said: "Practices of this size are becoming unsustainable both clinically and financially and are too small to deliver the full range of services that today's patients need in a modern health centre."
He said integrating the two surgeries would create a "large practice capable of delivering improved clinical care on a more sustainable footing".
A British Medical Association spokesperson said general practice was under "incredible pressure across the country" because of rising demand, flatlining budgets and staff shortages.
It called on the government and CCGs to support practices "trying hard to deliver services to local communities".