Cyclist Claudia Comberti 'slipped on pedal' before crash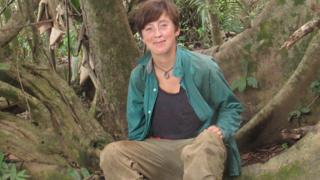 A woman was killed by a double-decker bus after her foot slipped on the pedal of her bicycle causing her to fall into its path, an inquest has heard.
Student Claudia Comberti, 31, was run over in the crash on Botley Road, Oxford, on 9 May.
Bus driver Leslie Otto told Oxford Coroner's Court that she fell at such a "weird and unnatural angle" that he could not avoid hitting her.
Coroner Darren Salter recorded a conclusion of road traffic collision.
He said there was insufficient time and distance for the driver to have avoided hitting Ms Comberti by braking and that he had driven reasonably in the circumstances.
But he added he would write to Oxfordshire County Council to see if anything could be done to improve safety at the junction.
'Incredible'
The court heard how Ms Comberti's right foot slipped on her pedal, causing her to lose balance and travel 2.5m (8ft) in the direction of the bus.
The bus driver, Mr Otto, said he had noticed her getting into difficulty shortly after the traffic lights changed.
"When I saw the wobble my instinct was to pull right a little bit," he said.
But he told the court the trajectory of her fall was "unnatural" and "could not have been predicted".
He added: "I'm just so sorry for what happened, but it all happened so quickly."
Mr Salter said she may have lost consciousness upon impact, before going under the vehicle's wheels.
She was declared dead by paramedics. The post-mortem examination found the cause to be head trauma.
Days after the accident, more than 100 cyclists took part in a procession to honour the DPhil student, who also worked as a teaching assistant at the Environmental Change Institute.
Alexandra Avery, a friend and housemate of Ms Comberti, supplied a statement to the court in which she described her as "incredible", "passionate" and a strong cyclist, runner, and swimmer.
She saw her on the morning of the accident, and said Ms Comberti was heading for a meeting in Wytham Woods and would later be presenting her research to colleagues.
"I said it sounds like a good day and she said yes," the statement read.