Oxford University Hospitals Trust scraps fax machines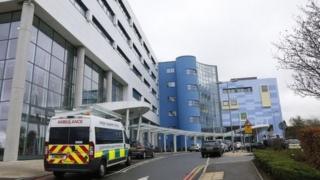 Fax machines at an NHS Trust in Oxfordshire have been switched off as part of a modernisation programme.
The technology has survived in the health service because it is viewed as a secure way of sending confidential information.
But Oxford University Hospitals NHS Foundation Trust (OUH) has now completely moved to NHSmail.
Chief information and digital officer Peter Knight said it was "one of the first" trusts to turn off its faxes.
He said the extra security requirements needed for patient data was one reason why the NHS had been slow to move away from fax technology.
One of the challenges of the switch-off was ensuring GP surgeries and other health professionals could still access services they needed, he said.
But it was felt NHSmail was now widely used across the health service in Oxfordshire so it was the "right time" to do it.
Mr Knight said its use of paperless technology was "well advanced" compared to other trusts and it was one of the first to turn off its faxes, along with the Royal Berkshire Hospital NHS Foundation Trust.
OUH runs three hospitals in Oxford and the Horton General Hospital in Banbury and saw around 110,000 patient admissions in 2016/17.