Aston Rowant aircraft crash: Pilot 'too low' in fog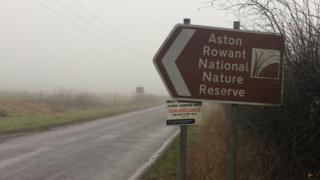 A light aircraft hit trees while flying below the safe altitude level in fog, a crash investigation has found.
Pilot David Norris, 64, from Milton Keynes, was killed in the crash near Aston Rowant Nature Reserve, Oxfordshire, in January.
One witness said fog meant visibility was "non-existent" at the time.
The Air Accident Investigations Branch (AAIB) said the crash was "not considered to be survivable".
It concluded visibility was so poor it would have been necessary to navigate using instruments prior the Piper PA-30 Twin Comanche coming down.
The "minimum safe altitude" for the area in such weather is 2,200 ft (670m) but the aircraft was flying 1,000 ft (304m) below this level.
It was flying at this height for "at least" one minute and 45 seconds before hitting trees on a ridge, the report said.
The aircraft had departed from Turweston Airfield in Buckinghamshire and was flying to Chalgrove Airfield in Oxfordshire to pick up two passengers.
Prior to the crash, the plane turned away from Chalgrove, where conditions were slightly better.
The report concluded the pilot did not know about the better conditions and said it was considered likely he was "uncertain" of his position relative to the airfield.
The AAIB said it was "not established" why Mr Norris remained below the safe altitude, or turned away from Chalgrove Airfield.