Cornbury Music Festival to return in 2018 after 'wave of support'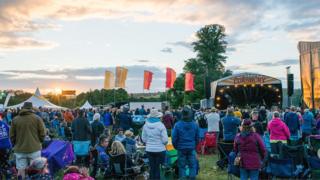 A major musical festival in Oxfordshire will return in 2018 after its organiser reversed a decision to make this year's event the last.
Cornbury Music Festival began in 2004 and has seen appearances from Amy Winehouse, Blondie, and Elvis Costello.
Festival director Hugh Phillimore had previously said every year he takes "a huge risk" and had decided to stop.
But he said the "wave of support" that followed his announcement had changed his mind.
Mr Phillimore added: "So many people have sent messages since July - our audience love the event and want it to keep going.
"Literally hundreds of our supporters, together with bands, agents, managers, sponsors and media partners telling me I shouldn't let such a jewel in the festival calendar end."
Other previous acts include Tom Jones, Robert Plant, Bryan Ferry, Van Morrison, The Pretenders, Crowded House, and Hugh Laurie.
The 15th festival will take place at Great Tew Park from 13 to 15 July. The event was originally based in Cornbury Park before moving in 2011.
The original site now hosts the Wilderness Festival.