Oxford to consult on plans to ban petrol and diesel cars from city centre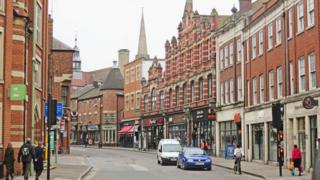 Petrol and diesel cars could be banned from Oxford city centre from 2020 under new proposals.
The zero emission zone is being backed by Oxford City Council and Oxfordshire County Council to tackle air pollution.
Councillor John Tanner said it was "damaging the health of Oxford's residents - a step change is urgently needed".
But Phil Southall, head of the Oxford Bus Company, said he was not convinced the technology would be ready.
The zone would eventually encompass the whole city by 2035.
George Street, High Street, St Aldates and St Clement's Street all currently fail to meet the European Union's air quality standards.
Martin Sutton, from Stagecoach Oxfordshire, said it would work with the councils to "explore what can be achieved".
But he added there was "some way to go" before zero-emission technology for buses was fully developed.
Mr Southall said: "Our buses run between 200 and 250 miles-a-day and at the moment the best electric doubledecker on the market can do about 130 miles.
"The idea is great and we'd all like to support it, but we just need to be absolutely sure that if we promise 2020, that technology is ready and at the moment I'm not convinced it will be."
Consultation launched
Oxford-based motoring journalist Dave Richards said the infrastructure needed would result in "posts and extension leads running over pavements - it's a colossal problem".
Yvonne Constance, county council cabinet member for environment, said "pragmatism" would be important.
The councils will launch a consultation on Monday, with a final scheme published next year.
In 2014 the councils launched a low emission zone, requiring buses to be low-emitting, the first of its kind outside London.
In July the government announced plans to ban all new petrol and diesel cars and vans from 2040.