Remove Oxford city centre bins, recycling panel suggests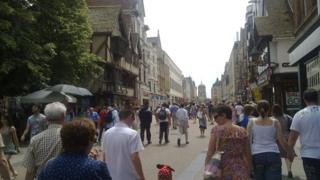 Bins should be removed from Oxford city centre to help improve recycling rates, a report has recommended.
Taking them away from Cornmarket Street temporarily would let people "appreciate the problem of litter", Oxford's recycling panel said.
But the councillor in charge of waste, John Tanner, said Oxford City Council had "no intention" of adopting the suggestion.
Instead he said "a mound of litter" could be exhibited in the city centre.
Mr Tanner said such an idea would demonstrate how much rubbish is dropped without making the problem worse.
He also warned the new Westgate Oxford shopping centre, which opens on 24 October, risked increasing litter and said the council would be "stepping-up" its cleaning in the city centre.
The panel said 51% of Oxford's waste is recycled which puts the area in the top 25% of council areas in the UK.
The report makes 11 recommendations for increasing recycling rates further, which included the temporary removal of bins from Cornmarket Street.
It also said different colours could be used to make it clearer whether public bins were for recycling or waste and suggested increasing the use of images to help people who do not speak English well.