Mystery behind hidden WW2 RAF Bicester shelter solved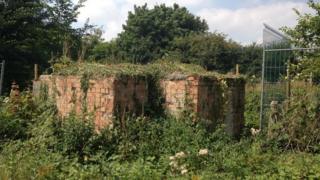 A mysterious building discovered in thick undergrowth at a former RAF base has been revealed as an anti-aircraft gun position and munitions store.
Historic England had appealed to the public to solve the puzzle of the structure not shown on records or maps.
The former RAF Bicester, now Bicester Heritage, was a World War Two RAF Bomber Training Station.
Clare Charlesworth at Historic England said she was "really grateful" for the public's help.
She added: "It is really exciting that we have discovered more about what this structure might have been which in turn will help us to restore it.
"The RAF Bicester site has an amazing array of historic buildings and structures so we are sure there will be lots more puzzles and secrets still to be revealed."
Historic England said members of the public put forward a "large number of tantalising clues and suggestions" which led to careful excavations of the building.
It was revealed to be a mounting point for a light machine gun, designed to shoot at enemy parachutists targeting the base for invasion.
It is the only defendable shelter on the site to have damp proofing, so that the munitions inside were protected.
Daniel Geoghegan, managing director of Bicester Heritage, said "This particular defensive structure had us scratching our heads for some time and we were delighted by the response from the public who helped us conclude a modern-day mystery."
Bicester Heritage is thought to be one of the best examples of an RAF bomber airfield from the interwar period.
It contains a number of other protected buildings, including bomb stores and defensive structures such as pillboxes, shelters and trenches.
Historic England has given Bicester Heritage a grant of more than £47,000 to restore the former airfield.