Rape-accused vicar died during 'meltdown' over charge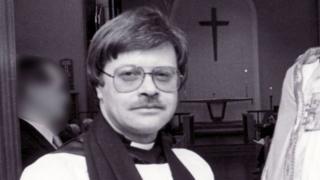 A former vicar who killed himself a day before he was due to appear in court to face sex assault charges had a "meltdown", an inquest heard.
Trevor Devamanikkam, 70, from Witney in Oxfordshire, failed to appear at Bradford Magistrates' Court on 6 June.
He was charged with six counts of sexual abuse, said to have taken place between March 1984 and April 1985.
A coroner concluded the accusations had caused him "huge anxiety" and he had intended to take his own life.
He was found dead in the bath at his home in Otter Court with multiple self-inflicted stab wounds.
An inquest at Oxford Coroner's Court heard a friend contacted Oxfordshire's mental health service a day before Mr Devamanikkam's death to report he was having a "meltdown" over the court appearance.
But a community mental health nurse visited him and reported back he was "calm".
The inquest also heard Mr Devamanikkam suffered from bipolar disorder and had previously tried to take his own life.
Paperwork on his coffee table found after his death related to the charges and a note said: "With my history of self-harm I am ending all this."
Recording a conclusion of suicide, assistant Coroner Mrs Rosamund Rhodes-Kemp said she was "convinced" the former vicar intended to take his own life.
Matt Ineson, who later became a vicar, has alleged he was raped by Mr Devamanikkam aged 16.
He also claims church leaders did not act when he reported the alleged abuse nearly 30 years later.
Mr Ineson, who has waived his right to anonymity, told the BBC that despite Mr Devamanikkam's death he still plans to take legal action against the church.