Oxford City Council reviews threat to fine rough sleepers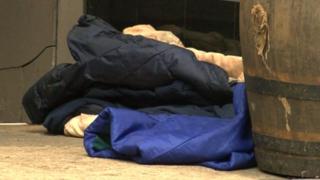 A controversial policy which saw homeless people who keep possessions in doorways threatened with fines of up to £2,500 will be reviewed.
It comes after more than 5,000 people signed a petition opposing the scheme.
In July notices were attached to piles of bags belonging to people sleeping rough in Oxford.
Councillors have agreed high-level approval is required before the notices are used, and they have agreed to a review of the process of issuing them.
The community protection notices, which were used by Oxford City Council in the summer, said prosecution could follow if abandoned bags were not removed.
At the time the authority said the possessions posed a hazard as they blocked fire exits, and it said lockers were available to those that sought help.
Green Party councillor David Thomas said Oxford's reputation had "suffered" because homeless people had been threatened with fines.
He seconded the motion to review the use of the notices.
He said they should only be used to tackle "genuinely anti-social behaviour" and said he hoped they were not attached to homeless people's bags again.
In response to the petition, Tom Hayes, the councillor in charge of community safety, said the authority spent £1.4m on homeless services each year.
"This council takes the national homeless tragedy playing out on the streets of the city very seriously", he said.