Oxford site for statue of Morse creator Colin Dexter identified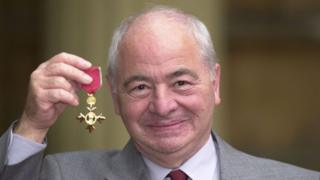 The proposed location for a statue of Colin Dexter, creator of the Inspector Morse novels, has been announced.
The Inspector Morse Society wants to place the monument in Summertown, north Oxford, close to where the author worked.
Preliminary designs for a full-size Mr Dexter holding a semi-complete Times crossword have been drawn up, the society said.
It estimates it will cost £50,000 and has launched a fundraising campaign.
The author, who died at his home in Oxford in March this year, wrote 13 Morse novels which were set in Oxford and adapted for the long-running ITV series.
Dexter's characters also featured in spin-off shows Lewis and Endeavour.
Dr Anthony Richards, founder of the Inspector Morse Society, said a "perfect location" had been identified close to where Mr Dexter worked at the Oxford Examining Board between 1966 and 1988.
The statue would be surrounded by black and white slabs forming a crossword with clues engraved on one side of the plinth.
The society is selling 50,000 £1 shares in the statue to help raise the money required.