Oxford's John Radcliffe Hospital plans 'GP surgery' to help A&E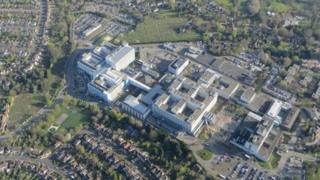 A hospital is planning to set up a portable building outside its under pressure emergency department to speed up patient admissions.
The new facility at Oxford's John Radcliffe Hospital will act similarly to a GP surgery and house up to two doctors and two nurses.
They would assess patients who arrive at the emergency department's minor injury unit, said Oxford University Hospitals NHS Foundation Trust (OUH).
It hopes it will open early in 2018.
The service would be led by GPs and provide treatment for patients who could be "more appropriately" helped outside hospital, said Paul Brennan, director of clinical services at OUH.
It would "aim to reduce the waiting times and congestion in minor injuries", he added.
In January the John Radcliffe Hospital cancelled all non-urgent operations because of the pressure on its emergency department.
The hospital was at Escalation Level 3, meaning "major pressures compromising patient flow".
The trust has failed to hit a target of four-hour waiting times for patients since July 2015.
The "ED streaming facility" will include a waiting area, reception, three clinic rooms, a kitchenette and a toilet, and be open from 08:00 to 23:00 seven days a week.
Helen Salisbury, a GP in Oxford, called it "quite a good idea" but said it would not make a major difference.
She felt the main problem for the NHS in the area was the number of people in hospital who could not leave because of a lack of nursing home beds.
A decision is expected by Oxford City Council in early November and OUH said it hoped to start offering the new service in the "early part of 2018".