Oxford fraudster jailed for 20 weeks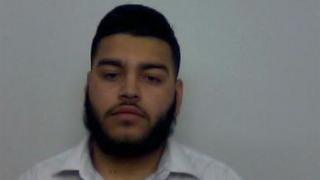 A man who pretended to be a courier in an attempt to make an elderly woman withdraw money has been jailed for 20 weeks.
Alid Chowdhury, 20, from Islington, was arrested after staff from NatWest alerted Thames Valley Police.
He was sentenced at Oxford Crown Court after pleading guilty to one count of fraud in September.
However, he claimed his role was "minimal" and he had simply been paid to knock on the door and ask for money.
'Disturbing case'
Police said the "elderly and vulnerable" victim from Oxford, was contacted by someone pretending to be a policeman, who convinced her to withdraw money.
Chowdhury was later arrested at the victim's address.
The force said further inquiries were being made to work out who called the woman pretending to be a police officer.
Det Sgt James Humphries said it was a "particularly disturbing case".
He added the sentence sent out a "strong message" and the victim deserved credit for her bravery in supporting their investigation.